The Divan is the currently elected and appointed officers of the shrine. These officers represent the leadership and administration. The Divan does everything from organizing monthly meetings, planning special events and day-to-day activities.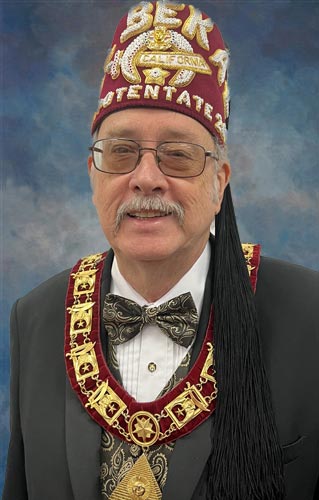 POTENTATE - Merritt Read
The 2023 Potentate of El Bekal Shrine is Illustrious Sir Merritt Read from Fullerton, CA. He is a 49 year Mason who started his masonic journey in 1968 with Fullerton Chapter, Order of DeMolay. He served as Master Councilor, Orange League President and received the Degree of Chevalier. He has been a DeMolay Advisor for 38 years serving in many capacities including Imperial Coast District Governor. He has received the Cross of Honor, the Active Legion of Honor and the Southern California Advisor of the Year Award in 2005. He has been a Deputy Member, followed by an Active Member and currently an Emeritus Member of the DeMolay International Supreme Council. He is also in his 50th year working with the youth in his community. This includes 6 years as Director of the Fullerton Girl Scout Olympics, many years coaching soccer, basketball and softball, and 15 years as a soccer referee. A member of Anaheim Masonic Lodge # 207, he served as Master in 1982 and 2007. He served 11 years as Treasurer, is currently in his 13th year as Assistant Secretary and received the Hiram Award in 1996. He is a former Inspector and served as Senior Grand Steward of the Grand Lodge of California in 2005-2006. He joined El Bekal in 2011 and joined the officer line in 2015. He was the 2020 Potentate and was elected on January 7, 2023 to serve as Potentate once again due to the untimely death of the noble who was going to serve in that position. He and his wife of 46 years, First Lady Kim, are committed to bringing fun and fellowship to El Bekal.
| | | |
| --- | --- | --- |
| CHIEF RABBAN - Larry Griffin | ASSISTANT RABBAN - James Segerstrom | HIGH PRIEST & PROPHET - Keith Jones |
| ORIENTAL GUIDE - Ernie Ramirez | TREASURER - George Boyd | RECORDER - Coy Love |
| 1st CEREMONIAL MASTER - Edwin Calayag | 2nd CEREMONIAL MASTER - Lito Soliven | |